When going through a divorce, splitting assets and debts in an equitable manner in which both parties agree can be daunting and stressful. It's important to know what to expect when it comes to your mortgage. Here are some things to consider when it comes to refinancing your home during a divorce.
Why is it important to refinance your home after a divorce?
If you decide that selling your home and splitting the proceeds is not an option you want to consider, then the best way to resolve the issue is to refinance the home to remove a spouse from the mortgage and deed.
Even though the divorce decree will state which spouse stays in the home, the mortgage will remain in the name of both parties until refinanced.
IMPORTANT! Each spouse is legally responsible to continue paying the mortgage until the mortgage is refinanced. If the mortgage is not paid or paid late, it will affect the credit score for BOTH parties.
IMPORTANT! Creditors can come after you to collect payment even if your divorce decree states that your ex-spouse is responsible for paying the mortgage.
Keeping the home
If one spouse will be keeping the home, it is important to select a divorce attorney who also understands the mortgage process.
Your attorney and mortgage lender need to work together closely in order to exchange information and have a smooth transaction.
A divorce decree is a court order that officially ends your marriage and details how you and your ex-spouse will deal with things like your home, parenting concerns, and spousal support, as well as the division of any investments, bank accounts, and debts.
Your mortgage lender will need to review the divorce agreement after it is finalized.
Your mortgage lender will need to know if one of the parties will have to pay alimony, maintenance, or child support.
These monthly payments will be included in their debt-to-income (DTI) ratio. The DTI ratio is essential in determining whether or not the spouse who will be owning the home can qualify for a mortgage on their own.
It's also possible that since the situation might be changing from a 2-income family to a 1-income household, the spouse who wants to stay in the home won't have enough income to meet the mortgage requirements.
Your mortgage lender will also need to know if a spouse will be receiving alimony, maintenance, or child support.
If the receiving party of the alimony or child support payments needs to use that income to qualify for the refinance and stay in the home, there is a required six-month waiting period to ensure they are receiving these payments in a consistent and timely manner before it can qualify as reliable income.
These payments will also have to continue for at least 3 years.
Furthermore, your divorce attorney might also need to collect some information from your mortgage lender.
They might need some information such as the home's appraised value and the amount of the new mortgage payment. The title company will also do research to determine if there are any unknown liens that may be on the property. If there are additional liens, they will have to be addressed in the divorce decree.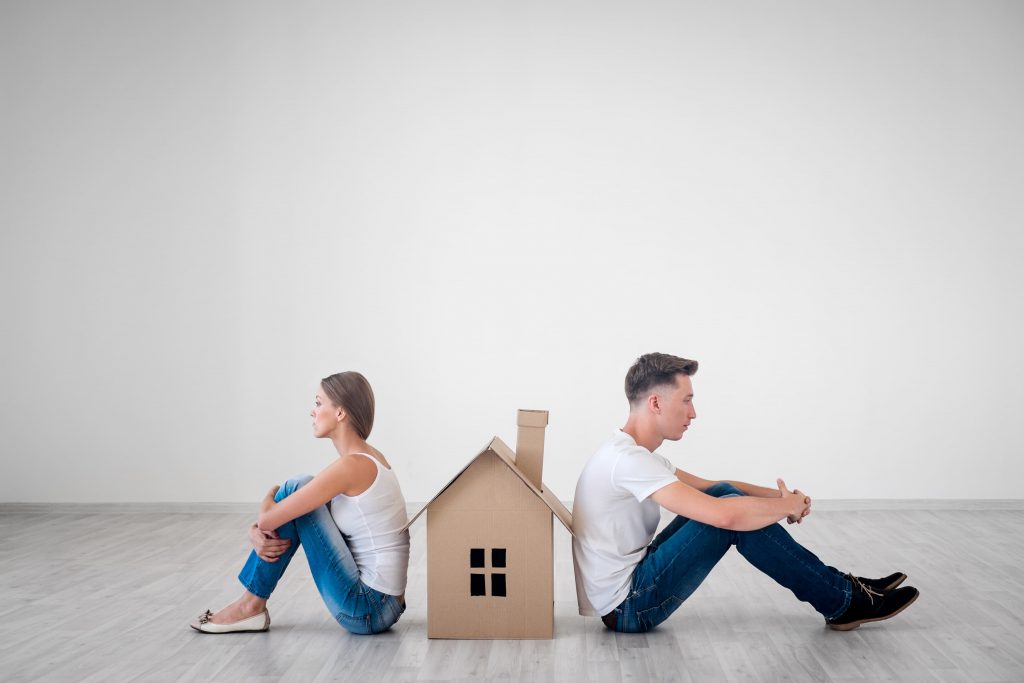 Can I just do a Quitclaim Deed?
A quitclaim deed transfers ownership of real estate to someone else and releases your legal claim to the home.
It is important to note that if you only file a quitclaim deed to remove your name, you will give up your rights to the property. This is very risky because you are now still liable to pay the mortgage on a home you do not own. The only way to properly release yourself from the mortgage debt is to sell the home or have the other spouse refinance the home by themselves.
You should only file a quitclaim deed after the home is refinanced. This will remove your name from the mortgage and the deed.
How can Mortgage Warehouse help with refinancing your home during a divorce?
Divorces are difficult and although we can't help you with every decision you will have to make, we can certainly help with the mortgage! As you can see, there are many details involved with dividing up assets and property in a divorce and it takes a great amount of experience and knowledge for it to be handled properly.
We have helped many of our clients begin refinancing their homes during a divorce. Our mortgage team are experts in this area. Let us help guide you through the process! Click here to get started.